Photo: Helen Tansey
Standing out: Giles Tomkins joins the CCOC for The Hobbit
Interview
One of the best things that's happening with the first-ever Toronto Festival of Children's Opera is that the young, up-and-coming singers are getting the chance to see full professional productions, and work with the best in the business.
One such example is bass-baritone Giles Tomkins, who joins the ranks of the young, impressive forces of the Canadian Children's Opera Company to play Gandalf the Grey and Smaug the Dragon in Dean Burry's treatment of the Tolkien classic, The Hobbit.
I caught up with him on Saturday on break from his rehearsal for a little catch-up.
How did you get involved in this production with Canadian Children's Opera Company?
Giles: It was through Dean Burry. We've worked on a number of his projects together. He told me first about it when I was out in Baddeck, NS, working on The Bells of Baddeck that he wrote. He mentioned they were remounting his Hobbit here and he asked if I would be interested in Gandalf/Smaug. My jaw hit the floor and I said "Are you serious? Who wouldn't want to be Gandalf?" So that's kind of where it started.
What's been the most fun, and what's been the most challenging part of working with this amount of children?
Giles: The most fun is almost being a kid again. I grew up in choirs, not the CCOC, but it's kind of instilling this love of mythology and magic. I know it sounds corny but working with kids just bring such an energy to the rehearsal room. They bring a particular enthusiasm to the work which is infectious. You really find yourself becoming a kid again and re-instilling that love of theatre and stage.
You play Gandalf and Smaug; do you have a specific process to separate these two characters from each other?
Giles: I also play old Bilbo Baggins at his birthday party. I think it was easier to separate Smaug because I'm just the voice of him. With Smaug I can manipulate the sounds to create all the great things that he is. Gandalf is much more rich and noble, but old Bilbo is much lighter and quicker - so this show has quite a few challenges for me.
Do you have a favourite part of the show?
Giles: I love doing the voice of Smaug, it's really fun. I also love singing the aria. It's just a lovely, gentle, thought-provoking piece that Tolkien set out and I think Dean captured that quite well. He just creates beautiful lines to sing.
Are you a Tolkien fan yourself?
Giles: Oh yeah. I grew up with the books and of course devoured the trilogies when they came out, so this is totally a dream come true for me.
What's next for you?
Giles: Another Dean Burry show! I head back to Cape Breton Island for another run of The Bells of Baddeck. We literally close The Hobbit on Sunday and on Monday I'll be flying out there.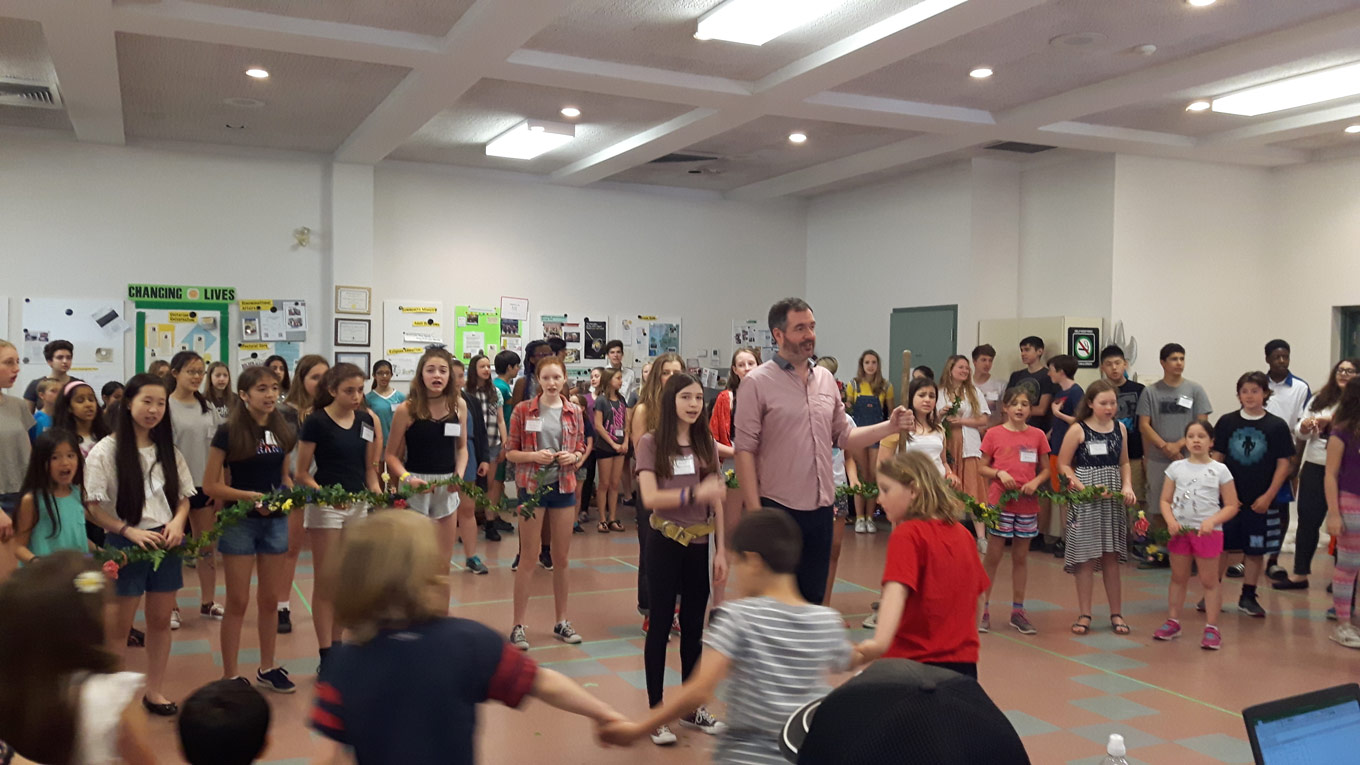 I've had the pleasure of both seeing Giles perform and working with him onstage on a number of occasions, and trust me, you'll enjoy every minute of this production. Performances run June 9-12, and you can get tickets here. Tell them I sent you!